I am new to Wanstead Baptist Church
Here at Wanstead Baptist Church our vision, and motto, is simple
serving Jesus, serving Wanstead
If you're thinking of visiting us, please do, we'd love to meet you. We can be found easily on Google Maps. Apart from our regular Sunday Services, Thursday Bible Study and Saturday Prayer & Reflection, we also host a variety of activities in our area so if you're interested in hiring out our hall, or just curious to find out more,  do take a look at our Contact Us page.
---
I am new to Wanstead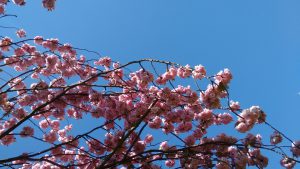 Here in Wanstead the cherry tree and its fruit have a long history; Wanstead was well-known for its cherry orchards and are mentioned by the poet Thomas Hood, who lived in Wanstead 1832-35. The cherry was so popular, that there are plaques on the walls around here showing how significant a fruit it was to the people of Wanstead, including one referencing a stolen cherry pie! So what better motif to choose for Wanstead Baptist Church than the cherry blossom.
We hope you enjoy navigating our website and some of the suggested links you find here.
To help you get to know the area a bit better why not begin by walking around some of the more historical sights. A great start are the many walks you can take to explore the area, which you can find on Redbridge's website: redbridge.gov.uk
Find what you need on your doorstep – pick up a free copy of the Wanstead Village Directory from the local Co-Op or Wanstead Pharmacy on Wanstead High Street, or visit their website: wansteadvillagedirectory.com
Or if you want to get to know the area from the comfort of your armchair, then check out British History Online – Wanstead
---
I am new to Christianity
Christianity put simply is a follower of Jesus, who said to his disciples
'I am the way, the truth and the life. No-one comes to the Father except through me'           John 14:6 (NKJV)
Here at Wanstead Baptist Church it is part of our mission to bring knowledge of the Lord to our local area. We feel that everyone should have the opportunity to read the Bible for themselves and make their own mind up, so we would love to welcome you to join us at one of our Sunday services, or even our Thursday Night Bible Study.
We believe first and foremost that anyone who confesses faith in the death and resurrection of Jesus Christ and yields control of their life to Him enters into fellowship with God – for this life and the next. We believe that the Bible is inspired by God and provides us with a manual that we can base our lives upon. In a world of relativism, voicing one's beliefs often means the end of conversation. We are quite open to listening to your perspective and hope you will come meet us regardless of what you believe and we can discuss these things further.