We run two services; our morning service starts at 10:30am and in the evening from 6.00pm.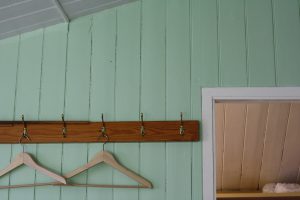 After a warm welcome our Sunday morning service begins with singing hymns led by piano at the front. We spend time in prayer just before a reading from the Bible. The pastor, or guest speaker, then provides the teaching. We also run a regular Sunday School for children aged 5-13 and Creche for children under 5. They hear Bible stories and enjoy related activities and songs. 
We offer Communion on the first and third Sunday of every month and all who believe that we are saved by grace through faith in a risen Christ are invited to share in this.
After this service we serve refreshments in the annexe at the back of the church. This is a great opportunity for us to get to know you, so do feel free to stay after the service for tea, coffee, snacks and a chat.
Our evening service is a smaller, more relaxed time of worship and reflection. We meet at 6.00pm and finish at 7.00pm but all are welcome to stay for longer should they wish. If you struggle to make the morning service and feel more comfortable meeting in smaller groups, then this might be the perfect time for you to come and join us.
Visitors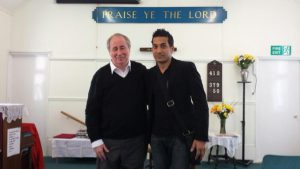 Wilson Chowdhry
A courageous campaigner for justice, peace, equality and freedom and a chairman of the British Pakistani Christian Association, we are so blessed to support Wilson; a tireless campaigner for the persecuted Christian minority in Pakistan and other countries. We are privileged to be able to stand shoulder-to-shoulder with our brave brothers and sisters in Christ.

Duggie Dug Dug & his Crazy Science show
We were blessed to have Doug and his crazy assistants come and visit us for a 90 minute show full of songs, puppets and some really fun, jaw-dropping experiments.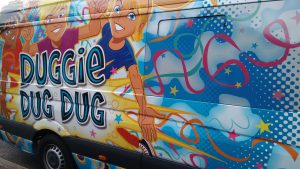 They helped us explore just how amazing God is through the incredible world He's made and brought plenty of smiles to our faces.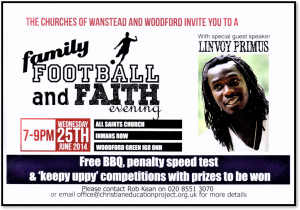 Linvoy Primus MBE
We invited Linvoy Primus ex-football star of Charlton Athletic, Barnet, Reading and Portsmouth F C, to hold motivational football training sessions in local schools alongside the Christian Education Project team in Redbridge where he shared the inspirational story of his life.
At an evening rally, Linvoy spoke of his Christian journey since finding a dynamic ongoing relationship with the risen Lord and Saviour, Jesus Christ, which encouraged, challenged and inspired many.
Canon Andrew White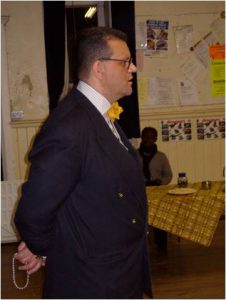 We had the privilege of having Canon Andrew White (a.k.a. The Vicar of Baghdad) come to visit and speak especially for us about his ministry and the many challenges involved during his time in the Middle East. Until recently, he pastored one of the largest churches in Iraq, St George's Church in Baghdad, where he is now the Emeritus Vicar. His trust and hope in the Sovereign God through the most dangerous and perilous of circumstances inspired and humbled the church.
Ministry Support
A natural part of Church life and as part of our commitment to serve Jesus and our community, we support various ministries both in the UK and abroad throughout the calendar year. We are kept updated by visiting speakers, newsletters and DVD's from the organisations we are privileged to support, some of which include:
The Falconer's Children's Home and Orphanage – Zambia
Missionary Aviation Fellowship – Papua New Guinea
Zambesi Mission – Malawi
Tearfund – Worldwide
The Christian Education Project – Redbridge
Jews for Jesus – London
British Pakistani Christian Association – London & Pakistan